Crazy Rich Asians, Book 1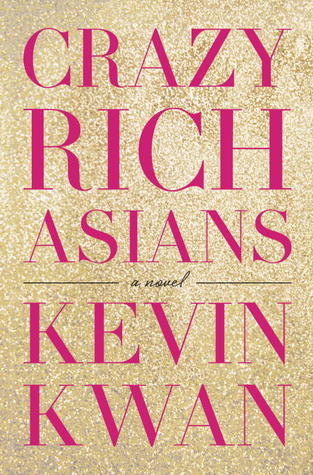 Heat Factor: Nothing sexy, but a few scenes of spectacular vulgarity
Character Chemistry: We are told there is chemistry, but we aren't shown it.
Plot: The trappings of a classic romantic arc covered in couture and diamonds
Overall: Do not let the movie marketing fool you. This is not really a romance.
I put my name on the wait list for this book back in the summer, right after I saw the movie version and had so much fun in the movie theater. Granted, there were bits of the movie that I thought were a bit weird – mainly the whole thing with Astrid, which seemed unnecessary and not that interesting – but I figured that maybe the book would handle those things better.

Now, I rarely say this, but… Honestly, I liked the movie better. (Can I think of another movie where that applies? Maybe Little Women (with Winona Ryder), but that could be a nostalgia thing, and because it bypasses some truly sappy prose.) Mainly because the movie is funnier than the book.
The movie is also more streamlined, and it's way more fun to look at gorgeous people wearing gorgeous clothes in gorgeous locations, rather than read about them.
Let's talk about Kwan's book though, setting aside the movie and my deep and abiding love for the comedy genius that is Awkwafina.

The plot centers around a classic romance. Nick invites Rachel to spend the summer with him, where they will travel to his ancestral home to meet his family. His family is not impressed, but won't do anything overt about it because they love him. Also, he is clueless. The questions are raised: Will he propose? Will his family accept her? Will their true love prove to be true?

Though the arc that brings Rachel to Singapore is romantic, really, this story is a comedy of manners about the insanely rich. Think lots of descriptions of opulent wealth, along with asides about the opulently wealthy and their ridiculous foibles.

The problem is that the romance portion can't stand up to Kwan's joyous prose about consumer goods. There is very little done to show the chemistry between Nick and Rachel. They think about their relationship – Nick wants to propose, Rachel thinks she could marry him – but their scenes together don't show them having any sort of special connection. (Interpersonal relations are not Kwan's strong suit; I didn't buy the relationship between Nick and his best friend, either.) Kwan shows the wealth, but tells the relationships.

Also, Nick sort of sucks. There is no excuse for him not preparing Rachel for his family – that's something you do even if your family is normal, because all families are weird. Kwan doesn't do much to make him sympathetic, besides show him to not be actively reprehensible. If we read this as a comedy of manners, then it doesn't matter, but it is a major failing in a romantic lead.

As a final sidenote: book Astrid is no better than movie Astrid. In fact, maybe she's worse. She's the number two heroine (Nick's cousin, having marriage problems with Michael, her husband from a much less wealthy family), and I think we're supposed to sympathize with her because she's fashionable and kind, but… nah. I am Team Michael ALL THE WAY. Fight me.
---
Buy Now: Amazon
(Or… just go watch the movie.)