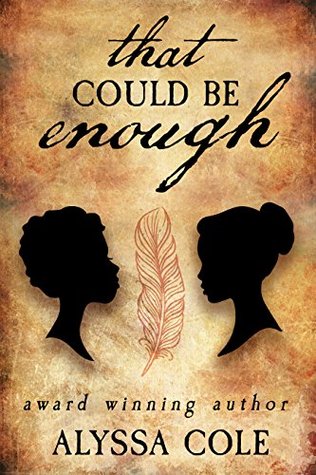 Heat Factor: Subtle due to historical context and euphemistic in the sexy bits
Character Chemistry: I'm not sure their want for each other exceeds their need for each other
Plot: Emotionally constipated woman finds polar opposite for true love
Overall: Too short for the necessary emotional development of the story

Set in early 19th century, That Could Be Enough is the story of Mercy Alston and Andromeda Steil, a servant and a seamstress.

Mercy's life experience is pretty sad: orphaned in childhood, dumped by every girlfriend she ever loved, she doesn't have a lot of love in her life and she's demure. Andromeda, by contrast, is bold and confident and comes from a family and community that accepts her for herself. The central conflict in the story, therefore, arises from not only the uncertainty of reciprocated interest in a burgeoning same-sex relationship but also from Mercy's emotional constipation (as Ingrid would say). Mercy feels too much, her breakups were debilitating, and she has crummy self esteem as a result.

Cole writes well. I understood why Mercy and Andromeda were who they were. I did not care at all. For some reason, I wasn't compulsively driven to read just a little further, further, until whoops! The book is over! There was none of that.

Mercy is a writer, but her emotional constipation means she's tempering her ability until Andromeda's arrival causes her poetry to burst forth. I'm not terribly excited about artists and their incomprehensible emotions (Sorry, artists! You do good work!), so that could have impacted my interactions with this story. There's a point at which Mercy writes a poem to Andromeda and poetry almost never speaks to me, for example. There's also a point at which:

"Andromeda had known just the right place in the teeming heart of New York to bring Mercy. No one had ever known before. No one had ever endeavored to know."

Really? After knowing Mercy for approximately four hours, Andromeda takes Mercy to a place that she likes and where she is conducting business, but it's actually about Mercy? I don't buy it. And the whole relationship is based on Andromeda providing this emotional support bandage that makes Mercy whole again. In fact, Andromeda is almost a bit player. She provides a great deal to Mercy, but Mercy provides almost nothing to her because she's already whole. Ideally people are already put together and don't need another person except to make life even better than it otherwise would have been, so there's nothing wrong with where Andromeda is coming from. But in context here it's glaring that Mercy needs and Andromeda provides.

For all the writing was quite good, I think the length ultimately impacted this story. Without some sort of past history coming into play, it's really hard to craft a love story that's believable between people who've known each other for a matter of days.
This novella was originally published as part of a trio of novellas titled Hamilton's Battalion, so each story loosely links back to a narrative arc in which Eliza Hamilton is reaching out to as many people as she can to gather stories or experiences of her husband (Alexander Hamilton, in case you've been living under a rock since the meteoric rise of Lin-Manuel Miranda). We'll discuss Hamilton's Battalion in a later post.
---
Buy Now: Amazon