Untamed Highlanders, Book #1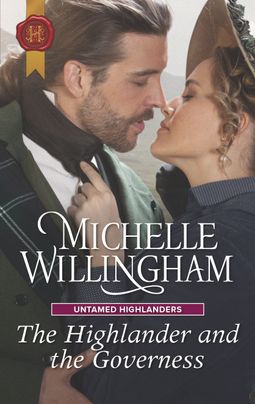 Heat Factor: Thought it was going to be totally innocent. Was totally wrong.
Character Chemistry: Do pieces of cardboard have chemistry?
Plot: Woe is me, I must marry for $$$
Overall: zzz
I was having so much fun reading Harlequin romance again I thought I'd dip my toes into a Harlequin Historical. I'm not sure it was a good life choice. The presentation was wooden and I was never invested.

Lachlan MacKinloch is Laird of Locharr, and he's been hiding out in his castle since his father died some years ago. We begin at this point because Lachlan is planning to marry the daughter of his father's friend to honor his father's memory/wishes. Also, he desperately needs Lady Regina's dowry because somehow his father managed to lose all the family's wealth. The clan needs the wealth. Oh me, oh my, the struggle of not being able to marry where one wishes!

Frances Goodson has been trained as a governess by an agency for a year, and Locharr is her first placement. She's flat broke because of a number of reasons, and she somehow has no idea who her charges are. You know who her charge is? The Laird. Lachlan's mother decided to retain a governess to teach her son how to behave in London society so he can court a woman that he's theoretically already engaged to. He's even been to London before. Wat.

So this isn't your typical governess story. I feel slightly misled by the title, not gonna lie. But the cover description is pretty clear so it's not like there's a pretence of an actual governess trope.

Here's the synopsis:
Lachlan: I don't need you.
Frances: Yes you do!
Lachlan: I really don't. But maybe you need me because you're super sad.
Frances: You neeeeeeeeeeeeeeeeed me!
Lachlan: I guess you can stay so I can help you. Plus you're hot.
Frances: Sweet! Now I can have one nice thing in my otherwise miserable life.
Lachan's mom: The governess is a harlot.
Lachlan: Be nice.
Frances: My life is really hard.
Lachlan: Apparently I have no idea how to function in society after all.
Frances: Told you so. But I love you anyway. It's really too bad we can NEVER MARRY.

Then we get into all that "I love you but I can never have you" nonsense. It is followed by that "I don't care what happens, we don't need money" nonsense. I might have cared at all if these protagonists weren't so amazingly dull.

Willingham also used "but" when she was continuing a thought and "and" when she was transitioning from one thought to another, so the flow of the writing was jarring. Furthermore, some of the foundational plot construction was problematic. So much why:

Why did Lachlan's mother feel like a governess was warranted when her son was raised as a gentleman? One of his best friends is a duke and another is heir to an Earldom.
How does Frances think she's going to be a governess if the people who would need a governess are also the people who have ostracized her for being compromised?
Why does Lachlan grouse about money for literally everything and then buy Frances a down mattress? Plus a bunch of other stuff!
Why was Lachlan's father marking his disbursements the way he chose? No spoilers, but it makes absolutely zero sense other than to make a mystery.
WHY IS THE CRAZY DAD EVEN NECESSARY?
I might try again with historical category romance, but this one was a slog.

I voluntarily read and reviewed a complimentary copy of this book. All thoughts and opinions are my own. We disclose this in accordance with 16 CFR §255.
---
Buy Now: Amazon