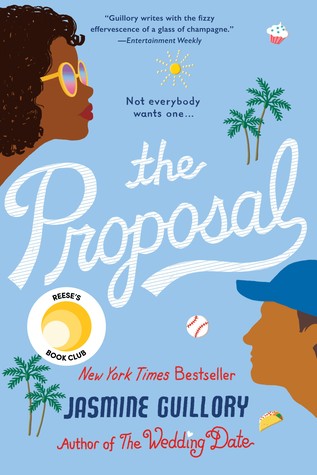 Heat Factor: playful and hot
Character Chemistry: it sneaks up on you a little bit
Plot: fooling around…j/k this is for real
Overall: It's a good time
Jasmine Guillory's second novel is a stand alone story, but if you've read The Wedding Date, you've met our hero before. This is the story of (doctor) Carlos Ibarra and (writer) Nikole Paterson navigating their way to an accidental HEA.

Nik is having a snooze-fest at a Dodgers game, but she's trying to be a supportive girlfriend, so when the guy she's been seeing for the past few months asks her to pay attention, she does. As one would imagine, she is astonished to see a proposal, complete with her name misspelled (this guy is a class act), on the JumboTron. It's especially astonishing because they'd never discussed marriage. And they don't actually even like each other that much.

As one would hope, Nik says no, but as one might also imagine, this doesn't go over well with the man being rejected, and he storms off. Nik is left alone in a stadium full of rubberneckers.

Carlos and his sister are sitting just a few rows behind Nik and watch all this drama unfold. When some cameras swoop in to take advantage of the situation, Carlos and his sister sweep in, pretending to be old friends, and smuggle Nik out of the stadium and take her to her friends.

One thing leads to another and Nik and Carlos just can't resist seeing more of each other. And then sleeping together. And just when you think the problem is going to be some dumb conflict about how they're not on the same page about what their relationship is, Nik just blurts out that she's not looking for something serious… And Carlos agrees with relief that he's not either. That means we get to see a nice adult relationship develop with normal communication hiccups here and there as they get to know each other. Of course, Nik has her two besties and Carlos has his big family, and in the one case they provide some sanity while on the other they provide the crisis moment. Naturally, there comes a moment when Nik and Carlos are no longer on the same page, and they have to figure out their issues before we can get to that HEA.

Nik's got some baggage from a past terrible relationship with a doctor who was just not a good, supportive guy. Love is a burden. Carlos's dad died of a heart attack unexpectedly and he turned his grief into an overdeveloped sense of responsibility toward his family. Love is something he just doesn't have time for. When it comes, how does one navigate one's baggage so as not to lose something great? That's the challenge for these two.

Fortunately, Nik's friends are totally willing to sympathize with her while also calling her on her nonsense. Guillory is good at this construction, and I appreciate it because the friends are being way nicer about getting the point across to the heroine that I'm screaming in my head. Because on the one hand, I found it easy to understand why Nik was struggling, but on the other hand COME ON! Carlos is amazing in bed AND in the kitchen! And he's fun and the relationship is fun! But Nik's not the only one with issues. Carlos has plenty of his own nonsense going on. There's a point when Carlos is all, "How are the women in my life going to manage if I don't change the oil in their cars for them?" and I was all, "Is this guy for real?" But it's okay. He has a sister and she's got no time for that nonsense.

When all's said and done, this book was fun and sweet. If you've read The Wedding Date, I'd say I liked the character chemistry between Alexa and Drew a little better than that between Nik and Carlos, but I was waaaaaaaaay less annoyed by the conflict in The Proposal. And it was delightful for such a nice character as Carlos to get his own HEA with a nice character like Nik.
---
PS: Holly here. We had another one of those situations where both Erin and I requested the same book from the library, but this time Erin won. It's probably just as well in this case, however, because The Proposal honestly didn't do much for me. I didn't hate it or anything; more like, I was left with a vague sense of dissatisfaction when I finished reading. Sure, Carlos and Nik are nice enough, but I didn't find them all that interesting or think their chemistry was all that great. Mainly because Carlos was overbearing and carried all this machismo around being the "head of the family" (eyeroll), but he and Nik and Guillory all pretend it is actually charming, even though Nik makes a lot of noise about being an independent woman. Yes, Carlos' sister calls him out on it, but it's kind of too little too late.

However, it should be noted that Erin likes her heroes a bit more alpha than I tend to, so take my criticism with a grain of salt, especially if you, like Erin, prefer your romance heroes to be Manly. And I will say that the slow build of chemistry between Nik and Carlos was well done, as was the relationship between Nik and her friends.
---
Buy Now: Amazon