Heat Factor: The sex is infrequent but quite detailed.
Character Chemistry: They spend barely any time together. 
Plot: Fate and Karma decide to find Mother Nature a boyfriend. Maybe if she gets laid, she'll stop being so pissy all the time. 
Overall: The premise is soooo ridonkulous; the execution is sooooo earnest.
The Goddess Gets Her Guy is a zany romp that is bogged down by way too many side plots and secondary characters. While it's being sold as a stand-alone, be warned that it is the 13th book in Chase's paranormal world, and that basically ALL of her previous characters make cameos. Because of all the extra stuff going on with the secondary characters (Love stories! Weddings! Babies! Moms getting out of prison! Paranormal/human relations!), there's very little space for Gaia and Aaron's relationship to develop naturally. It feels very rushed; when Gaia started thinking about how Aaron meant everything to her, my first reaction was that they barely know each other. (On the other hand, Gaia is literally Mother freakin' Nature, so maybe she can use her psychic powers and earth magic to know things like this more quickly?)

While the story was overstuffed and the characters underdeveloped, I did appreciate the narrative voice. The tone is light and breezy and easy to read, and bits are quite funny. I mean, a Goddess as old as the universe is trying to learn about modern human dating rituals, and has no patience for all that technology and other nonsense. So when her sisters (the aforementioned Fate and Karma) set her up with a profile on a dating app, the results are about as ridiculous as you'd expect. In a good way.

I also appreciated that Gaia's love interest is an older man – he's a retired surgeon with two adult daughters. Frequently, really old paranormal characters in romances end up with sweet young twenty-somethings; in this case, however, the characters explicitly talk about finding a man for her who has some life experience and will be able to stand up to her a bit. Honestly, I'm only in my 30s, and I could not even deal with dating a 20 year old, so I don't know how these thousand-year-old vampires manage.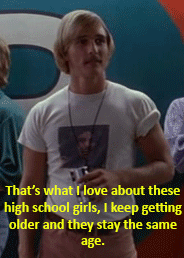 A central component of Gaia learning to date is her becoming a better person in general. She's been yelling at the paranormals so much lately, and they all think it's time she learned how to control her temper and think about the other person's perspective. All of this makes Gaia way less of a fun character. She starts off sassy and a bit bitchy with a tiny bit of earnestness about the environment, but once her self-improvement kick really gets going, she's so earnest all the time, and has earnest conversations with everyone about the best way to treat people. Characters need a bit of spice to them, and making the occasional joke while always doing the right thing is not nearly spicy enough for me.

While bits of this story were fun – there are a few great vignettes, especially of Gaia hanging out with Fate and Karma as they try to figure out how dating will work for her – I would really only recommend it to readers who are already familiar with Chase's work. Avid readers of her previous series (especially Flirting with Fangs, Boston Dragons, and Phoenix Brothers) will probably enjoy seeing closure for all of her characters, but readers new to her universe will likely be overwhelmed by all the extraneous stuff going on. 
 I voluntarily read and reviewed a complimentary copy of this book. All thoughts and opinions are my own. We disclose this in accordance with 16 CFR §255.
---
Buy Now: Amazon
---
Looking for something similar? We are here to help!
I want something to read on the beach…that takes place on the beach.
Paranormal romance, all day, every day