Desperate Duchesses, Book 2
Heat Factor: Sex is more poetic than explicit
Character Chemistry: Honestly, Poppy has more chemistry with Jemma, but, then again, she spends a lot more time with Jemma than with her husband
Plot: Fletch publicly insults Poppy, so she moves out, tries to convince herself she never loved him, and finds herself
Overall: My heart is glowing and I cannot explain why
---
Reader, here's the thing. I love Eloisa James' Desperate Duchesses. Love them.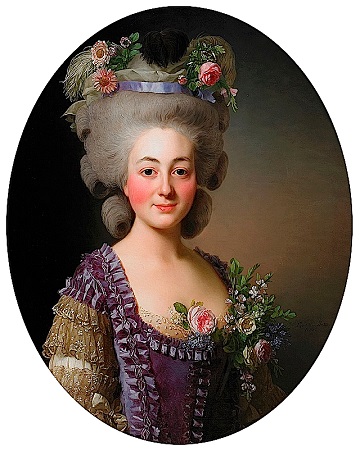 Maybe it's the clothing – we're solidly in the Georgian period, so the men wear purple velvet and wigs and the women have all the feathers in their hair and lace and ruffles and panniers.
Furthermore, James' characters are deeply interested in fashion, mainly because of what their clothes can convey. So Poppy always looks like a proper Duchess (even though it means she is frequently horrendously overdressed) because she is desperately trying to show Fletch that he married the right girl. Poppy's insistence on dressing at the height of fashion – no matter what – also leads to one of the best scenes in the book, when Fletch washes her hair and discovers bits of feathers and glue and tangles in the back. This scene is so great because 1. GROSS, 2. History!, and 3. Poppy and Fletch start communicating. (Turns out, during the first years of their marriage, every time they had sex, Poppy was thinking about how she could not wait to take her hair down, so could Fletch stop messing around and just finish already.)

Maybe I love the Desperate Duchesses because of the female friendships – Jemma, Duchess of Beaumont, features heavily in the first 5 books, as a close friend and confidant of the other women as they find their way towards true love. In another series, Jemma would be an antagonist: she's beautiful and stylish and scandalous and maybe a bit vulgar, but in An Affair Before Christmas she invites Poppy into her home and encourages Poppy to stand up for herself. Poppy's growth arc is pretty wonderful, and I credit most of it to conversations she has with Jemma. Jemma gets bonus points for being witty and also giving Poppy some much-needed sex advice.

Maybe I love the Desperate Duchesses because Seducing My Spouse is my favorite trope and Eloisa James nails it here. The basic premise of this book is that Poppy and Fletch have been married for several years – a love match, even! – but things are not going well. Mainly, they have an extremely dysfunctional sex life, which is actually a symptom of their poor communication skills. In Seducing My Spouse books, we start with the part of the relationship where they start learning to talk to each other, so the reader gets to skip the really aggravating moments of not talking. As a bonus, I like seeing people fall in love who have known each other, intimately, for years.

Or maybe I love the Desperate Duchesses because this series is so stinking romantic. While the characters may be cynical (I'll get to Villiers in a minute), the book itself is not. So even though I am a certified Grinch, when Villiers gets a Christmas miracle and doesn't die after months of malingering, and Fletch and Poppy finally (FINALLY) have good sex after 4 years of marriage, my heart felt like it grew three sizes.
But Reader, I must be honest. An Affair Before Christmas does not really work as a standalone romance. There is a LOT of extra plot about Jemma and Elijah and Villiers and a duel and some chess games and an affair that may or may not happen. If you read the whole series, in order, this means that when Jemma and Elijah work things out in Book 5, and when Villiers finally gets his own Happily Ever After in Book 6, it is immensely satisfying, as you've been on this whole journey with them. On the other hand, it also means that Poppy and Fletch are not given all that much space for their own story to develop. In fact, Poppy and Fletch don't even start having conversations until 200 pages into the book. Up until that point, Poppy is talking to Jemma, and Villiers is getting sick, and Jemma and Elijah are playing chess. Fletch in particular suffers, as he remains pretty underdeveloped and disappears for ages on end; his only character traits are that he is handsome and likes sex and wears nice clothes.

Even with its weakness, An Affair Before Christmas is a beautiful holiday romance. I'll close with a quote from the opening passage, which captures some of the magic of the holidays and gets me in the mood for carols and gingerbread and love:
An ancient joy shone in each passerby's eyes and spilled from children's laughter. Magic sang in the wild peals of church bells that kept breaking out first in one church and then another, in the way each sprig of mistletoe sheltered sweet kisses. It was Christmas.
---
Buy Now: Amazon
---
Looking for something similar? We have many romance options for you!
The hair! The dresses! I want more Georgian romances!