Old School Romance, Book #1
Heat Factor: It's that "I can't resist anymore – wait, how did we end up plastered to your door with my skirt around my hips?" kind of thing.
Character Chemistry: On the one hand, they're magnetic to each other; on the other hand, he doesn't treat her well. 
Plot: I saw my best friend naked and now I'm having all these FEELINGS.
Overall: It worked for me, but it definitely isn't going to be for everyone.
---
In a twist of cover marketing gone right, I picked up Between Friends because of the old school cover. The series is actually called Old School Romance, so Miles is clearly doing something here. But even though this looks like something from the 80s, it's a contemporary romance.
Tessa and Jordan have known each other forever. Jordan's best friend is Tessa's oldest brother, but since their families are all still at home in Wyoming, Tessa and Jordan end up being best friends while they're living in the Bay area.
Jordan's girlfriend started fighting with him about his secret feelings for Tessa, and they break up. He thinks she's nuts, and from a reader perspective there does seem to be no thought of hidden feelings on either side until Jordan accidentally sees Tessa naked and is floored. Until that point, Jordan thought of himself as her nearly-ten-year older brother-ish. At this point, we enter the angst-ridden territory of I-don't-want-to-ruin-our-friendship-so-I'm-going-to-destroy-it-anyway-by-trying-to-ignore-my-feelings. Because that always works.
Jordan's agony of futilely denying his feelings and his untamed jealousy absolutely did it for me. I have a soft spot for heroes with an absolutely terrible EQ.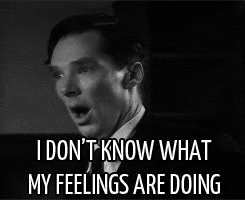 That said, Jordan is absolutely terrible to Tessa. Absolutely. Terrible. He does a number of hot-and-cold, keep-her-at-arm's-length things to Tessa in his attempt to keep their friendship (snort), but the worst is that he uses another woman as a band-aid, and he doesn't just date her. And he does this stuff at the same time he and Tessa are peeling themselves off each other. The other woman knows Jordan isn't interested in exclusive, long term anything with her, but still, it's pretty gross that he sleeps with Tessa, has a meltdown, and sleeps with the other woman the next night. Or at least the other woman's car spends the night at his house. What I'm saying is this hero is definitely not going to be for everybody.
Usually with these stories, both protagonists spend some time in existential crisis because of jeopardizing the friendship. So I enjoyed that in this book, Tessa embraces the change:
"You're not mad?" He grunted as she kicked the bag dead center. 

"To the contrary," she huffed between kicks, "I'm excited."

Tessa could practically hear the warning bells peeling in Jordan's head. 

"Excited?" His voice was guarded. 

Tessa stopped and placed her gloved hands on either side of it to peer at him around the bag. "Yes! Jordan, I have never felt so hot in my entire life." … She slowly perused his body and shivered. "I can't wait until we have sex."
I also liked that she called him on his BS when he said he was trying to protect the friendship when it was clearly already totally broken:
"If I have to be the one to preserve our friendship, I will." His face had turned to stone.

She threw her arms up in the air. 

Jordan followed every bouncing move. 

"What friendship? We don't speak or do anything a fraction of the time we use [sic] to. It's already changed our friendship. It can't get any worse."
But delusional heroes grappling with feelings are such a delightful thing.
Of course, with all the crap Jordan pulls there has to be a grovel. While the grovel starts well, when it came to the point, I was not satisfied with the depth of it, which is another point I'd flag for readers who might already be turned off by Jordan's repellent behavior.
This was good for an angsty, I-don't-know-what-to-do-with-my-feelings-but-I-have-so-many, friends to lovers romance, but readers shouldn't have illusions about the hero.
I voluntarily read and reviewed a complimentary copy of this book. All thoughts and opinions are my own. We disclose this in accordance with 16 CFR §255.
---
Buy Now: Amazon
---
Books with similar vibes: