NOLA Knights, Book #2
Heat Factor: There's a lot of sex, but it's nothing outlandish
Character Chemistry: Pretty fun
Plot: How can a squeaky clean reporter be in a relationship with a Russian mobster? Also: shenanigans
Overall: Delightful
---
Kir is a caveman, and I found it delightful. I didn't really know what to expect from a New Orleans Russian mafia romance, but I can say with some certainty that this book exceeded my expectations. This was solely due to the relationship between Cassie and Kir, which I did expect to be a relentlessly dominant/submissive and, uh, misogynist situation, but which…wasn't. I mean, Kir is still a caveman, but the relationship dynamic was really nice. I am totally going to read the whole series.
Cassie and Kir already know each other before the book begins, but Cassie ghosted Kir after two exceptional, explosive nights together because some of her coworkers told her he was a shady mobster, and Cassie's a good girl. Kir is a member of a Russian crime (found) family, and they do illegal things, but they're not normal mobsters. They're, like, extra nice, altruistic mobsters…who only exact vengeance when one of their own is harmed. Nothing like escalating retaliation, eh?

They end up talking again because they just do, and then BAM! Kir is all: "You're my woman and I will be seeing to your protection and you have no choice but to obey me because you agreed to be with me." And that's fine because there's this whole suspense plot going on to keep things interesting.
In the usual course of an alpha-hole story arc, we see something like:
Him: She's mine even if she doesn't know it yet. She'll figure it out soon enough because I will be overbearing and jealous.
Her: What is the deal with this overbearing and jealous guy? I am a strong and independent woman, but when he starts making demands, I will not resist the urge to drop my panties.
Him: My woman is having a problem. I am going to deal with it for her and not communicate with her about it.
Her: Why does this guy not respect my independence and let me deal with my own stuff? Oh well, it's nice to be taken care of, and also I somehow ended up in the shower with him. Whatcha gonna do?
Him: There is a crisis! She will listen to me while I go out and deal with it so she can be protected in this cocoo–
Her: Eff that, I am so getting involved in this situation I am not actually equipped to deal with!
Him: OMG my feelings! I can't stand the stress of this situation! I will paddle her backside when we get home, where she will remain for the foreseeable future.
Her: Well, it was touch and go for a while, but that turned out okay. He overreacts all the time, but at least I got him to confess his love for me. Oh, look, my clothes disappeared…
While Kir does have quite a few hallmarks of an alpha-hole hero–
---
Shit Kir Says:
Cassie: I can pay for my own food.
Kir: I am certain you can, but you will not with me.
Cassie: I can take care of myself.
Kir: I have no doubt that you can. That doesn't mean that you will.
Kir: You are aware that custom dictates a man open a door for a woman, correct?
Cassie: I'm aware custom traditionally dictates such an action for a man on a date with a woman, but this isn't a date.
Kir: Perhaps it is a behavior relegated to dating for other men, but I think we've established that I am not the average male.
---
–he has a remarkably open and honest relationship with Cassie from the words, "my woman." And she reciprocates. Cassie even notes to herself when Kir is domineering and makes intentional decisions about whether or not she's going to argue with him. There's not a single boundary that Kir isn't willing to cross, because he's supposed to be Cassie's provider and protector. And she's like, "this guy." It's outrageous and quite enjoyable.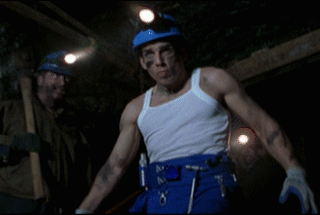 Between family backstories and job problems and mob problems, there are plenty of opportunities for both Cassie and Kir to withhold information, but they both recognize at various points that if they're committed to being in a partnership, they need to be honest with each other. And trust each other, even if it's uncomfortable for a little while. For example, at one point Cassie asks Kir to tell her about his (rather heartbreaking) family history, and he thinks:
He didn't want to. Didn't want to relive the details himself, let alone share it with a woman whose opinion of him mattered so much. But a partnership built without trust was no partnership at all.
My point is that, if you like a domineering sort of hero who's a little dangerous but you also like a mature relationship and a heroine who doesn't just get walked all over, this might be a really fun read for you. I snorted at Kir often, but I also very much enjoyed this book.
A note on the text: Kir is Russian, so there are Russian words. Endearments mostly. Transliterated. So if you have some Russian and you're like me, seeing Russian words not in Cyrillic might be…weird.
I voluntarily read and reviewed a complimentary copy of this book. All thoughts and opinions are my own. We disclose this in accordance with 16 CFR §255.
---
Buy Now: Amazon
---
Does this strike your fancy, and you want more like it?
This is our first Mafia Romance – but if you dig the bad boys, you may like a biker hero?
Or perhaps you prefer your heroes extremely paternalistic and domineering
"She is My Woman! Whether she realizes it or not! She will soon enough!" [insert caveman grunting]