Looking for a new author? Here's everything you need to know about Pippa Grant, author of Charming as Puck, Humbugged, and Flirting with the Frenemy. You may also recognize her style under the pen name "Jaime Farrell."
What She Writes:
Contemporary romantic comedy with minimal angst, a heavy dose of absurdity, healthy love stories, and panty-melting love scenes.
What Makes Her Unique:
Pippa Grant weaves tight-knit communities and friend groups from which her multiple series springs with hilarity eternal. She also tends to turn macho contemporary rom-com heroes on their heads after they meet badass heroines.
Writing Style:
She primarily writes alternating 1st person POV. Characters are described through their personalities; you won't see elaborate or superficial character descriptions.
Her Books in GIF Form: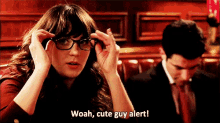 Why We Love Her:
These books are plain fun and easy to read. Also, she doesn't shy away from normal awkward behavior and feelings, which is funny. There are multiple entry points for her different series, but you'll find Easter eggs and cameos from old friends if you keep reading.
She Might Not Be For You If:
You really enjoy an angsty read. Or super domineering heroes.
Notable Quotation:
"If men are pigs, his body is the bacon, and god help me, I love a good piece of bacon."

The Pilot and the Puck Up
Content Warnings:
There aren't a lot of warnings with Pippa Grant, but her characters do tend to be white and privileged.
The Bottom Line:
If you're having a bad week, read Pippa. If you need to restore your faith in humans, read Pippa. If you're lonely and missing your friends during this insane pandemic, read Pippa. Basically, if you want to feel good…READ PIPPA.
Start With:
Flirting with the Frenemy (Bro Code #1). Check out her full suggested reading order here.