Big Rock, Book #2
Heat Factor: I mean, the title is "Mister O" and the tagline is "Your pleasure is his superpower" so…
Character Chemistry: Pretty cute
Plot: Best friend's sister asks for dating "coaching"
Overall: Come for a very hot, fluffy read with low-stakes drama
---
This book starts off with some ridiculous "I love making women orgasm a million times, I'm so dedicated to their pleasure" nonsense, but in reality, Nick Hammer is a serial monogamist who's been crushing on his best friend's sister for years. He does not come across as much of a player from the moment Harper enters the story. Mister O is actually the name of his superhero comic character. You see, Nick is an animated show creator, and this show is adult.
Harper Holiday has known her brother's best friend for ages and ages, so she's comfortable with him–but she's not comfortable with other men she's interested in. After she rescues Nick from a horny fan during a book signing, they go out for coffee and get to talking. One thing leads to another and, naturally, Harper asks Nick for dating coaching. She's great at being a magician, but otherwise isn't terribly confident about engaging with people. Especially when her dates all ask her to show them a magic trick.
Best friend's sibling is one of my favorite tropes, but only when it's the brother's best friend. Yes, there are some issues with this trope including what is a particularly possessive and paternalistic brother/sister dynamic, but I don't care. I love it. I've also noticed that in much contemporary romance, the brother and best friend might have whatever issues they have, but the sister/heroine is right there to stand up for herself, making her own decisions and calling her brother to account for acting like a caveman. Sure, Harper and Nick do some sneaking around (because, hello, best friend's sibling romance!), but most of the time Harper's brother is tangential to their story and relationship.
There is absolutely nothing surprising about this book. It does its job as a good time romance. It is a light, smokin' hot, romantic read. And it's fun that the protagonists have unusual jobs. Also, Nick has tats and glasses.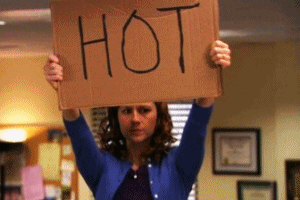 I inhaled this book (and then a number of other books by Blakely), and I would recommend it for readers who are looking for a light, low-drama read with some sweet romance and a sizeable helping of spicy sexytimes. These characters really embrace their sexuality. The story is also from the hero's perspective, and it was fun to be all up in his feelings with hers being opaque for a change.
---
Buy Now: Amazon
---
Looking for something similar?
I prefer intercourse without STI's, please and thank you