Heat Factor: This sauce is spicy
Character Chemistry: Initial awkwardness leads to friendship leads to steam
Plot: Jasmine and Ashton are just running lines! They swear! Nothing to see here!
Overall: This is the wokest book I've ever read
---
Reading You Had Me At Hola was an interesting experience, because it made me question myself and my desires and really look at what I want in a romance novel.
Let's start with the setting. Jasmine and Ashton are co-stars in a new Latinx TV show. I got major Jane the Virgin vibes, and pictured Ashton as Rogelio de la Vega the whole time I was reading. (In a good way! He is the best character. Fight me.) Daria portrays an exceptionally positive work environment for her leads, where everyone is accepted and boundaries are not only respected, but explicitly discussed. And I was all about it, because portraying non-toxic workplaces in fiction is one of many tools we can use to normalize non-toxic workplaces in the world.
But then Ashton, our hero, would think things like this:
He wanted to run back to her. To apologize, to spill all of his hopes and fears where Yadiel and his family were concerned.

But after all he'd said, he had no right to ask her for any more emotional labor on his behalf. They were done. And it was better this way.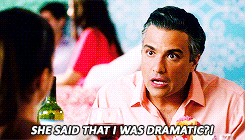 First of all, ugh, this angst. But second of all, him talking about not wanting to put that emotional labor on Jasmine just did not do it for me. Now, I want men (or people in general) in real life to recognize the emotional labor of those around them. And I am not all about the absolute cavemen that Erin loves; in fact, I generally prefer my romantic heroes to have at least some emotional literacy. But I still found Ashton's emotional awareness off-putting. So if I am down for manifesting the world we want to see in some aspects of fiction, why not in romantic heroes? My psyche demands answers! 
In short, this book didn't really work for me for purely personal reasons that I need way more space than a few hours of thinking and a 500 word review to unpack.
On a more objective level, You Had Me At Hola is pretty good. The pacing works – the story clips along with no saggy bits. Jasmine and Ashton have believable chemistry, and also believable reasons for holding back. Jasmine and Ashton have (mostly) supportive families, which is always nice to see. (Aside: speaking of psyches, I've discovered that I really appreciate it when romance novels feature protagonists who might be messy, but who have real support from the people in their lives. Not everyone has to be a sad sack orphan with no friends except mice to deserve a happily ever after.) And the diversity of the Nuyorican and Puerto Rican characters and their varied experiences was fascinating without being in your face.
I mostly liked it – I just didn't swoon.
I voluntarily read and reviewed a complimentary copy of this book. All thoughts and opinions are my own. We disclose this in accordance with 16 CFR §255.
---
---
Looking for something similar?
Bangin' in secret is not enough! I need ALL the secrets! Relationship destroying ones!