Looking for a new author? Here's everything you need to know about Julia Quinn, whose books include the now-famous Bridgerton series, as well as Splendid, How to Marry a Marquis, and The Girl with the Make-Believe Husband.
---
What She Writes:
Regency romance (and a few Georgians) with lots of banter and not a ton of heat. For the most part, her books are set in one interconnected world, so secondary characters appear in multiple series, and everyone in her books is reading the same (utterly ridiculous) gothic romance. 
What Makes Her Unique:
She leans into the romp without stepping too far outside generic expectations for regency romance, so it's usually pretty fun to read her books, even when she's working with an angstier narrative. 
Writing Style:
Did we mention the banter?
Her Books in gif Form: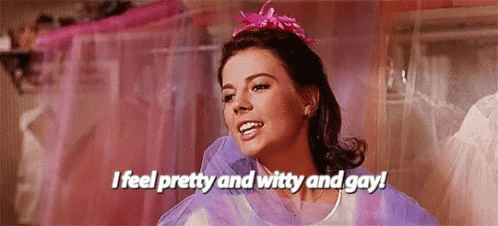 Why We Love Her:
Even when she's getting serious and angsty, her books are playful and sometimes laugh-out-loud funny. Plus, the callbacks are so much fun, especially for dedicated readers. (The Smith-Smythe series may not be her best work, but that Smith-Smythe Musicale sure is something else.) 
She Might Not Be For You If:
You like to mix it up with social, racial, or queer diversity. Or if an abundance of witty banter makes you want to throw books. 
Notable Quotation:
"May I be of assistance?" he murmured. 

Grace shook her head frantically. She could not touch him. She did not know why, precisely, but she knew in her bones that it would be an utter disaster to put her hand in his.

"Very well," he said with a small sigh. "Ladies today are so very capable. It breaks my heart, really." He leaned in, almost as if sharing a secret. "No one likes to feel superfluous."

Grace just stared at him. 

"Rendered mute by my grace and charm," he said, stepping back to allow them to exit. "It happens all the time. Really, I shouldn't be allowed near the ladies. I have such a vexing effect on you."

He was mad. That was the only explanation. Grace didn't care how pretty his manners were, he had to be mad. And he had a gun. 

-The Lost Duke of Wyndham
Content Warnings:
Much of Quinn's popular backlist is around 20 years old, so there's definitely content that doesn't jive with modern expectations. For example, it's hard to argue that Simon consents to sex with Daphne in The Duke and I, which probably wouldn't fly now. 
The Bottom Line:
There is definitely a reason that Julia Quinn is a bestselling author – she tells a good story! She is remarkably consistent in style and tone, so you know pretty much exactly what to expect when you pick up one of her books. But she doesn't push boundaries or play with tropes in unexpected ways, and is therefore probably best suited to readers who are looking for a pretty conventional historical romance narrative with relatively low heat. 
Start With:
How to Marry a Marquis (Lady Danbury 4-eva!)