Holidays with the Wongs, Book #3
Review of Holidays with the Wongs, Book #1
Heat Factor: Oops! We kissed in the ice skating forest, so now we should probably also have all the sex…just to get it out of our system, of course
Character Chemistry: Apparently I'm a sucker for the best friends-but-one's-secretly-in-love trope
Plot: Zach and Jo bonded over beers and broken engagements four years ago and have been friends ever since. After Zach's family set up him and his siblings on dates at Thanksgiving, he won't put it past them to do something wild at Chinese New Year, so he asks Jo to be his fake girlfriend.
Overall: It's like a warm hug
---
After reading A Match Made for Thanksgiving, I started binging all of Holidays with the Wongs. What can I say? I like the Wong family. They're delightfully close in that so-much-love-it-could-probably-use-some-better-boundaries way. Because who sets up their four children with dates on a family holiday? But that's a different review.
Zach had been set up with his childhood best friend's little sister at Thanksgiving, and it was not great. So after both of his older brothers end up in relationships after Thanksgiving and Christmas, respectively, Zach is starting to feel some serious trepidation about what his family might pull at Chinese New Year to see him in a relationship. And he's sworn off relationships after his fiancee abandoned him for big city life in Toronto. So he asks his friend Jo to be his fake girlfriend…
…Unbeknownst to Zach, Jo has been madly in love with him for two years. So she is really good at faking being over the moon about him. Because it's not fake for her, emotionally speaking…
…And then they start to spend time together not only at the local bar on Friday nights. What do you know? Maybe there is just a little interest in smooching. And definitely interest in some sexytimes. And then this whole fake relationship thing gets really confusing.
So what did I like about this novella, exactly? Besides just something about its construction and voice worked for me, I'd say I liked that Jo felt completely relatable when she going over all these interactions she'd had with Zach, getting all swoony and optimistic like, "I think he's really starting to LIKE ME!!!!!!" and her best friend is a complete wet blanket, trying to manage Jo's expectations so she's not completely crushed when Zach walks away from the sexual and romantic components of the relationship when the fake dating thing is over.
And poor Zach was so emotionally muddled about his past and his present that it was impacting his vision for the future, which I guess he pictured being exactly the same forever.
Also, at one point Jo tells Zach that he kind of looks like Keanu Reeves in Always Be My Maybe, which is kind of awesome for a variety of reasons. I think I'm obligated to put this gif up now: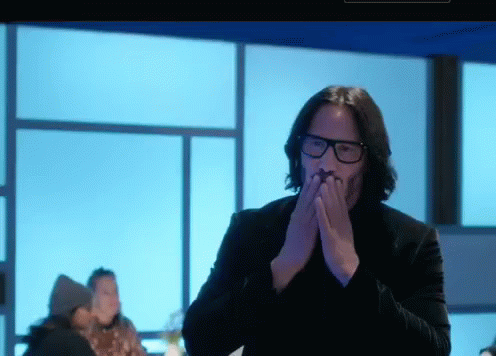 Bottom line: if you're looking for something light and charming, this novella is a lovely thing to read.
---
Buy Now: Amazon
Or just be like Erin and binge the whole series
---
Looking for something similar?