Looking for a new author? Here's everything you need to know about Jackie Lau, whose books include The Ultimate Pi Day Party, Her Big City Neighbor, and A Match Made for Thanksgiving.
What She Writes:
Contemporary romances featuring Chinese-Canadian characters in Toronto. Expect frequent mentions of restaurants and the amazing food served there.
What Makes Her Unique:
Lau's books generally start with a tropey premise ("I need a fake date!" "Please give me relationship lessons!" "I will befriend a grumpy person with the power of rainbow sprinkles!"), but then at the midpoint, the characters lay their cards on the table and the focus shifts to the characters and their relationship, without the trope. The relationship-building tends to be low on drama, and high on emotional vulnerability, honest conversations, meddling relatives (of all ages), and food.
Writing Style:
Lau uses alternating POV, so the reader gets the perspective of both the hero and the heroine. Her writing leans more expository – there's not a ton of deep description, but there is a lot of detail about what specific streets and restaurants and shops in Toronto her characters are frequenting. The books tend to be on the shorter side, with the full-length novels clocking in at around 200 pages. Her different series are loosely interconnected, mainly because the characters go to the same places.
Why We Love Her:
Her books are fun. And make us hungry.
Her Books in gif form: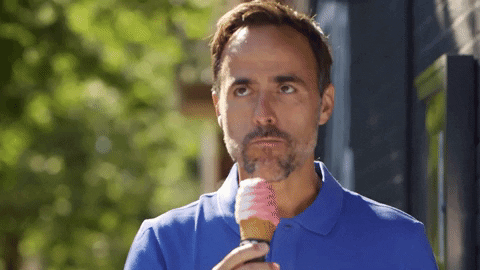 She Might Not Be For You If:
You (not so secretly) love purple prose and expect lush descriptions in your romances. Or if you thrive on drama and all the angst.
Notable Quotation:
"Because even though I'm a grumpy bastard who stomps all over people's dreams, sometimes I just want a cuddle, you know? Cuddling is pretty awesome, not that I would ever admit that to anyone."

– Ice Cream Lover
Content Warnings:
While her books are generally light-hearted, some characters are dealing with overcoming past trauma, usually surrounding family members (such as a death in the family or abusive or emotionally distant parents).
The Bottom Line:
Lau is great if you're looking for low-key romance that's not super long. She is an indie author who doesn't use Kindle Unlimited and is probably not available at your library, but she does often promote books as freebies, so you can probably see if she's a fit for you during one of her promos. (Or recommend her to your library!)
Start With:
Holidays with the Wongs. Four novellas in one collection!