Dream Team, Book #3
Heat Factor: There is some explicit sexy sex, but for a KA novel, it's surprisingly tame
Character Chemistry: One thing I enjoy about this series is that the relationship hangups are resolved pretty early on, and sometimes instead of huge relationship angst it's nice to think about those early days of playing house and enjoying little things like your new lover cooking dinner for you or bringing you coffee in the morning.
Plot: The Super Bad Guys are messing with everybody (so, real talk, this one doesn't really come through as a stand alone)
Overall: My feelings are mixed.
---
I was having a lot of thoughts the whole time I read this book, but now that it's done, the thought first and foremost in my brain is that I turned the page and the chapter heading said "Epilogue" and I felt like we had resolved NOTHING.
So this is me right now: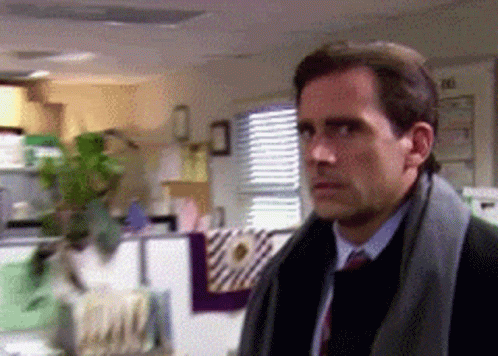 Thinking back, that isn't wholly true. There were a ton of threads that got unraveled in the course of the story, from family drama for both Axl and Hattie to Super Bad Guy drama for everybody to a scary situation for Hattie to friendship drama (complete with wedding drama!) to, of course, alpha man drama, and some of those threads did get tied off. Mostly. In a really satisfying way? Maybe. Axl and Hattie help each other get themselves sorted out, which is one emotional goal of a romance, so there you go.
But the primary plot that is running through this series ended on a massive (though, interestingly, not particularly dramatic) cliffhanger, and unlike in the prior two books there wasn't really a specific sub-plot (slash a book-specific primary plot) with a Current Bad Guy that they had to overcome, resolving the drama of a Current Bad Guy surrounding Hattie and Axl but not yet resolving the issue of the Super Bad Guys. So even though things are resolved for Hattie and Axl there was almost no emotional drama to hold on to in their relationship after about 50% and there wasn't even a big action plot to hold on to. So here I am having very mixed feelings. But I am still invested in this series and I really want to know what happens, so take that as you will.
My other primary takeaway thought is that this series is designed for KA stans. ALL the Denver players are pulled in, including, of course, the Dream Man series heroes (this is a spinoff series, after all), most of the Nightingale team (Rock Chick series), several of the Chaos series heroes, and even Knight Sebring (Knight from the Unfinished Heroes series). Plus casual mentions of other players previously seen in KA Denver/Colorado books. Ergo, I'm not sure a brand new reader would be into that level of named characters brought in when they don't already know about them, while readers who already know all the stories would probably enjoy revisiting Lee et al.
Now for some notes on the text.
Ashley's writing style is extremely conversational/stream-of-consciousness, which does not work for all readers. It can heighten the emotional drama that the characters are feeling, but it can also at times be distracting. The voice is extremely assertive, so there's not a lot of teasing out takeaways or nudging certain ideas to the forefront of the reader's mind, but there is a lot of "this is what's important." And I don't mean "this is what's important" to the characters, I mean this is what's important IN LIFE. It's not subtle. Finally, this is one author that I can tell by reading all her books over time that she is actively engaging with social issues. Do I agree with every single statement or characterization I read? Not necessarily. But I enjoy that I can tell it's happening. And it means that even though the heroes in this series are very much her stock alpha hero, they're significantly less alpha-hole than the heroes of prior series. 
So, to sum up, I think my main enjoyment of this book is centered on it being something that's familiar that doesn't need to take up a lot of my headspace and that doesn't play too heavily on my emotions. It's somewhat meandering but also familiar, which can be comforting for the reader. Because I know KA, I know what I'm getting into from the start, and I can have fun with it and let it go. So it's not high drama, huge thrills, but it is entertaining.
I voluntarily read and reviewed a complimentary copy of this book. All thoughts and opinions are my own. We disclose this in accordance with 16 CFR §255.
---
Buy Now: Amazon
---
Looking for something similar?
Wow, Erin talked a lot about Kristen Ashley in this review. More by her?
(NOTE: KA also features heavily in Erin's series on MC Romance.)
Horny Heroes, thinking with their junk 10 times out of 10