Hi Friends!
I'm going to take a minute to talk about the difference between "reveling" and "relishing" because if I read another book that says "relishing in" (which I absolutely will, probably this week, even) I am going to SCREAM.
Please give me a little bit of credit (Just a little bit! I am trying!) for constantly reminding myself that the English language is a living language and is therefore constantly evolving. We don't need to be huge snobs. We can roll with an evolving language. 
But, like the time I was told "in lieu of" when the speaker meant "in view of," I simply cannot get behind the use of "relishing" combined with "in". Can't do it. You don't relish in an ice cream cone. You just relish it.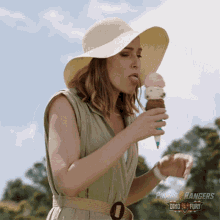 Just look at the definitions of these words (courtesy of Merriam Webster):
relish verb
relished; relishing; relishes
Definition of relish
transitive verb
1: to add relish to (not relevant to our purposes)
2: to be pleased or gratified by : ENJOY ( ← this one here)
3: to eat or drink with pleasure (tangentially related)
4: to appreciate with taste and discernment (this also works-ish)
intransitive verb
: to have a characteristic or pleasing taste (also not relevant to our purposes)
revel verb
reveled or revelled; reveling or revelling
Definition of revel
intransitive verb
1: to take part in a revel : CAROUSE (relevant probably only from a metaphorical standpoint)
2: to take intense pleasure or satisfaction ( ← this one here)
---
It pretty much boils down to the fact that, in use, revel is an intransitive verb while relish is a transitive verb, meaning that relish has a direct object while revel doesn't. Meaning that whatever is being relished is being acted upon. If the verb is acting on an object (Sam relished(v) the taste(direct object) of Taylor's mouth(prepositional object).), then there is no need for a prepositional phrase to describe where the verb is occurring (Alex reveled(v) in the heat(prepositional object) of Jaime's embrace(prepositional object).) Or, because it's an intransitive verb, Alex could, I suppose, simply revel, no further words required. But we need to know what it is that Sam is relishing or the sentence does not make sense.
So I'm begging for characters that are relishing in things to pretty please just not do that.