Heat Factor: It feels kinda like a slow burn but it's not TOO slow.
Character Chemistry: At first it's not very apparent but a hot spring makes things…hot.
Plot: Charlotte gets her hiney handed to her after a brutal break up with a terrible ex…but worse, she nearly lost her long-time best friend, Julien, in the process. They end up going on a road trip—but while HER goal is sweet, sweet revenge, Julien's is sweet, sweet love. 
Overall: The writing was quite good (I'd read another book by this author in a pitter-pat of a heartbeat). If you're a Marie Kondo reader, you'll love this one.
---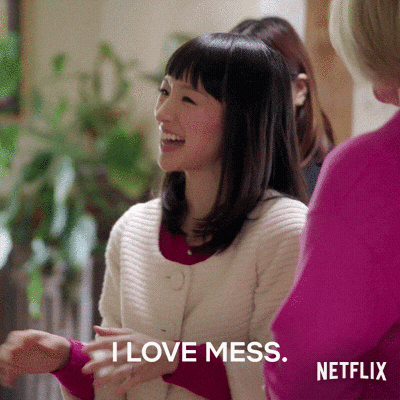 So Charlotte goes through this terrible relationship that kind of robs her of her self-esteem and her inner compass…and very nearly her long-term best friend, Julien. Julien asks to be her date to her brother's wedding after a fairly significant hiatus from speaking, and Charlotte hesitantly agrees.
The thing is, she's hell bent on taking a road trip after the wedding and showing up at her ex's book signing in Vegas. Why? Because he wrote this super popular book all about how his difficult life brought him to acting and success and all that, and in it, he flips things around and acts like Charlotte was the abusive, cheating ex (when really it was HIM). So when Julien cancels his work trip and shows up to go on the road trip with her, Charlotte ends up having to tell Julien the truth. And the truth is very frustrating for Julien because he joins the trip with every intention of convincing Charlotte that they should try giving dating a go.
Here's what this book does very well–by the time Charlotte and Julien hook up, I was in FULL agreement that that activity should absolutely happen. It's set magically, but somehow also casually. I loved that they progress without sudden certainty–Charlotte still isn't sure what to do or if this is the right call, but she's trusting her feelings and so despite the hesitance and the weirdness, it feels genuine and accurate.
Plus, I'll say that the way the relationship unfolds is fabulously done–because it's in first person and it's single POV, we know what Charlotte is feeling but it's so conflicted and she's got so much going on that it's hard to say what she's going to do. Julien, who is more sure, can't obviously disclose his feelings…so the way it works out is really intense and creates some truly top-notch tension.
The characters are a little messy, but I really don't think a lot of people would be too bothered by that. For example, Charlotte's plan is not well-thought out, and Julien knows it. He calls her on it, and points out that if she makes a scene at the book signing, people will absolutely believe her ex's version–that she was crazy and awful and he was the victim. And frankly, Julien is right, but Charlotte never ends up making the "right" choice where that's concerned…and I kinda wanted her to find some other way. Julien's mess, however, is that he bails on his job and gets fired. This isn't really a spoiler because Julien kind of waves off any concern about it the entire road trip. But his reasons for waving it off range from "I'm too valuable, they'll never do it" to "Eh, I don't really care anyway". And I think I would have preferred that plot thread to show more growth.
And the big showdown between the ex and Charlotte is a little clunky and unsatisfying—I think that the intention might have been to have Charlotte choose Julien and for Julien to show up for Charlotte, and that's technically what happens—but it's done kind of clumsily and doesn't show either of them in the best light. Mainly because throughout the book, one of the threads for "why they would work now" is that they're older and mature and still manage to bring out the joy and fun in each other—so as a reader I would have felt more confident about their relationship if the way they handled that conflict reflected their maturity and newfound clarity and confidence and not…how they handled it. Because they DO have a really amazing fun time in Vegas, and I think if that situation had been handled better, I would have really enjoyed feeling the balance of that—that they're able to support each other and make decisions together that are solid and mature, but that they can also tear up the Vegas strip like old times.
The thing is, though, that they're deliciously messy characters—and sometimes it's fun to read books where people do stupid things and can laugh it off and carry on without a ton of reflection and drama. So don't let these sweet and messy characters deter you—the road trip is probably one of the more delicious and dreamy ones I've read and the writing style is just lovely.
I voluntarily read and reviewed a complimentary copy of this book. All thoughts and opinions are my own. We disclose this in accordance with 16 CFR §255.
---
Buy Now: Amazon
---
Looking for something similar?