Heartstopper, Book #2
Review of Heartstopper, Book #1
Heat Factor: So much making out. (Ah, the high school nostalgia)
Character Chemistry: Sweetness overload. These boys are so kind.
Plot: Charlie kissed Nick and now he thinks their friendship is over, but Nick is realizing that those feelings he's been having mean something, so now it's time to navigate a secret relationship
Overall: My high school first love nostalgia trip continues but with much sweeter and more nurturing kids.
---
This was another quick read. But Volume 3 is (at the time of drafting this review) on super backorder, so I might never get to actually finish reading this series.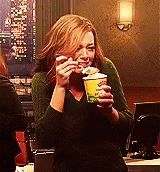 After Charlie and Nick kiss at the end of Volume 1, they're both left reeling for different reasons.
Ah, teenagers.
Anyway, Charlie thinks that kissing Nick has ruined their friendship, and Nick is like, "WTF is happening to me right now?" But, because Nick is just the sweetest sweetie pie and I want to squish his cheeks, he goes and talks things out with Charlie the next morning.
Naturally, a secret relationship ensues.
This book involved a lot of angst and identity examination on Nick's part because he wants to be with Charlie and he's happy with Charlie but he's also really scared about what his new discovery is going to mean for his life, and it doesn't help that some of his friends are just awful. Homomisic bullying and then gaslighting awful. Boo!
In this book, we get some more of these boys' greater circle of friends, including the rest of Charlie's friend group, which includes more representation. We also get to see a contrast of surrounding oneself with supportive people (Charlie's friends) vs. nasty, judgy people (Nick's friends). It's generally light-hearted, though. Silly teenage antics.
And, if you're following along with the Netflix show, this book tracks maybe even more closely than did Volume 1. The "WE'RE BOYFRIENDS!" moment is just, ugh, so cute, no matter what medium. But season 1 of the show ends at the same time as Volume 2, and I NEED TO KNOW WHAT COMES NEXT. Root for fast shipping for me, please?
---
---
Looking for something similar?