Well, I decided to do a hockey round-up for the beginning of hockey season, but apparently most of the hockey books I've read are college sportsball, or I've already talked about them on the blog in a review or a listicle, and obviously I wanted to talk about new-to-us books. So I'm left with a M/M pro hockey romance list. There will be teammates. There will be coaches. There will be celebrities, and some normal people, too. Mostly, it'll be fun.
So, here! Have some hockey romances!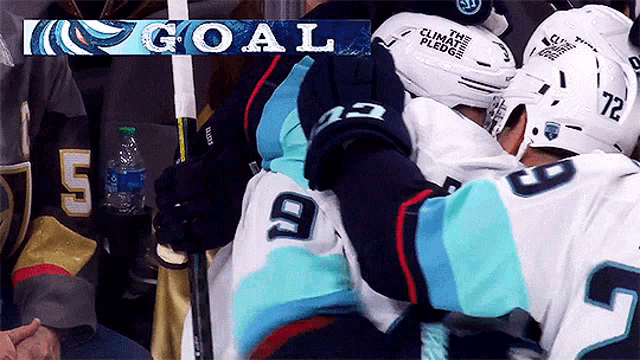 ---
Nothing to see here but sweetness. After winning the Stanley Cup, Daniel wonders what's next for his career, so when an offer comes to be an influential veteran for the struggling Miami team, he takes it. His risk is rewarded: it turns out that his childhood bestie still lives in Miami (he works with the marine mammals at the aquarium!), and Micah isn't opposed to picking up where they left off—first kiss and unrealized romantic dreams finally realized?—now that they're back in the same city. But Daniel's career is dependent on his team winning, and Micah can't find aquarium jobs just anywhere. Bonus points: If you're looking for an MC with an amicable divorce, I found one for ya! (Daniel's ex moves with him so they can keep co-parenting equally.)
Sergei and Alex have been best friends since Sergei was billetted in Alex's house for juniors. Alex is a retired olympic medalist figure skater who's floundering and broke. Sergei is an extremely successful professional goalie. When Alex finds out he's the other man for the jerk who turned out to be a controlling sugar daddy, he has nowhere to go but to Sergei until he figures out his next move. Meanwhile, Sergei, who is giving off many demisexual vibes, realizes that, in fact, he's interested in more than friendship with Alex. Fun story, though! Just when they're thinking they might be able to do this relationship thing, they get the curveball of becoming parents as well. Definite domestic bliss fantasy wish fulfillment in this one. This book would be better with more editing, but I found it enjoyable nonetheless.
So, look, I started this series at the beginning, and I enjoyed it all; however, the last two books in this series were added after the planned three because the characters just really needed their stories told. Which is likely why they're my favorites. Soren is the first out player in the NHL. He came out in Deke (#3), which is also a hockey romance (FYI). But now he's getting old. He's getting slower. There might not be much hockey left in him, but he's going to enjoy being the 5th wheel on his Fijian vacation and play next season refreshed. Then Jet comes back in need of some TLC. Jet is the little brother of Trick Play's (#2) hero. He's a spitfire. He's a rock star. But when he and Soren hooked up three years before, he was just getting started. And he's still ten years younger than Soren. Their relationship has "bad idea" written all over it, but they just don't care anymore.
---
Can I interest you in some angst? The first…half(?) of this book is an emotional roller coaster. It's followed by some lovely, calm sweetness like snuggles under the blanket by the fire when the snow is falling outside. And then someone almost dies. Me, I am a sucker for an "Oh my God, you almost died, and then I would have died!" moment, but I feel I should warn readers that this one was particularly, er, graphically terrifying. Pucks are no joke, folks. And then the ending is really lovely. Broadly speaking, I liked this book. Bryce is the biggest player in the league, and he's closeted, but it doesn't matter because he's never interested in anybody. He and Hunter hit it off immediately, but Hunter's convinced he's straight. Mixed signals ensue. Enter the angst-fest.
The quantity of absolutely bananas stuff in this book (I mean, just Rupert's background alone) is one thing that's extremely entertaining if you roll with it. But the primary draw of this is probably going to be that it's 100% playing house, we-made-a-family fantasy wish fulfillment. Callum and Rupert get off on the wrong foot when professional goalie Callum buys into the minor-pro (CHL-type) hockey team Rupert manages, but when Rupert's 4yo brother needs rescuing, one thing leads to another. And another. And sharing a bed. And a hotel room. And coordinating childcare. And making decisions together. And why is Callum going back to his pro-hockey career in a different country, again?
Y'all, I cannot resist a coach romance. If it's coach-player, so much the better. It's so naugty. And Gabriel and Lance know they're being naughty. The one thing they have going for them is that Lance coaches the forwards and Gabriel plays defense. They're both living their second chance—a TBI ended Lance's pro career and his marriage, and it took him many years to rehabilitate himself until he was able to coach; Gabriel's only outlet for his personal woes has been sex and fighting, so his last chance at a pro career after being put on waivers is to toe the line in Evanston. If you're into a wholeheartedly caring and supportive friendship as a romantic foundation, this one delivers.
---
Well, shoot, I wrote up this whole Saturday Smutty Six and then started making the graphics and found I had seven! Plus my bonus down below! Whatever. More romance is better than less romance! Enjoy this Saturday Smutty Seventh and the Taylor Fitzpatrick it's-technically-not-genre-romance-but-it-slayed-me bonus below.
Why have one coach when you could have two? I don't know. And I didn't try to resist, honestly. Max is the new assistant coach for an ECHL team, and he is very surprised to discover that his head coach is none other than Misha, the guy who caused the accident that ended Max's pro career. You'd think the conflict would center on this one injury that so significantly impacted both men…but it doesn't. Instead, Misha has a lot of baggage about a lot of things (among them is Max's injury, but it's by no means the biggest), and both men are fighting for the health, wellbeing, and success of all their players. If you're into scenes involving holidays that bring people together, I found a book for you!
---
It's not *technically* a genre romance, but oh my gosh it was such a beautiful love story. I wouldn't typically recommend a book that's not a romance because I get super ragey when I go in thinking something is a romance and it's not, but there are a couple things about this book that made it really worthwhile. If you want a good cry with a lifelong love story between a veteran D-man and a rookie forward that has so, so much heart, I do recommend this one. 
---
Got any hockey recommendations for Erin? Please let her know. Seriously. She needs them all.