The Doomsday Books, Book #1
Heat Factor: We open with sex, then get a whole lotta feelings, and then some more sex toward the end.
Character Chemistry: Both the antagonism and the support hit perfectly.
Plot: Gareth inherits a barony, a house, and a whole lot of trouble with smugglers when his father dies. Luckily, Joss is only too happy to help him out.
Overall: An enjoyable read.
---
I saw this book promoted elsewhere as "Poldark, but make it gay." Obviously, that was a one-click. However, since I never actually read any of the Poldark books and the only bit I actually remember about the recent-ish BBC series is the scene where Ross Poldark scythes a meadow, I cannot comment on how closely The Secret Lives of Country Gentleman captures the vibes of Poldark more broadly.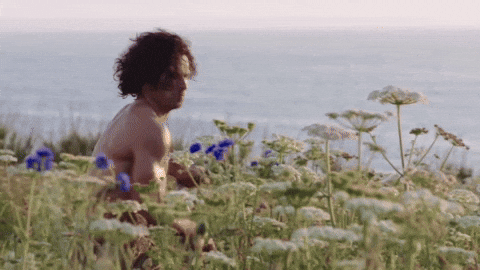 There is, I regret to inform you, no shirtless yardwork. But I guess Gareth and Joss do run around in meadows overlooking the sea. And sometimes remove clothing outside.
Anyways.
Gareth is living a sad and lonely life in London—except for this really great guy who he's been having anonymous sex with—when his father (who Gareth hasn't seen since he was a small child) kicks the bucket. Gareth inherits everything and moves to Romney Marsh in Kent. This is a sparsely populated region in southeastern England which means: smugglers. Lots and lots of smugglers. Anyways, Gareth spends lots of time wandering around the marsh looking at insects and happens upon some of these smugglers during one of his rambles. Being the law-abiding citizen he is, he gives a description to the taxman, which results in a young woman being arrested…until he recants his testimony when that really great anonymous sex partner shows up at the courthouse and offers some, uh, persuasion to forget what he saw.
And that's brings us to Chapter 3.
So the first thing to note about this book is that there's a lot of plot. There are a lot of characters and a lot of stuff happening. It was also waaaayyyyy more suspense-y than I was expecting. Like, there's a full-blown mystery here, with various suspicious characters threatening Gareth and his half-sister. The mystery builds slowly—at first, I thought this was an incidental side plot, but the mystery and the resolution of the suspense plot eventually become central to the story. This did mean that I wasn't sure exactly where we were going with the story for the first few chapters, but the seemingly disparate threads do start to come together once things get moving. So Gareth's and Joss's family dramas and their relationship with one another and the smuggling shenanigans and the mystery of what Gareth's terrible dad was up to eventually weave together into one larger story, where if you pull one thread, all of the other pieces move too.
The second thing to know is that while Charles clearly knows her way around Romney Marsh and its history—I loved the density of the local details—this doesn't read as a purely "accurate" book of historical fiction. The characters are very careful with each other about consent and emotions in ways that some readers might find anachronistic, though I thought that Charles struck a good balance of having the characters make the point without it being overpowering. (Also, what is "historical accuracy" really? Historical fiction reveals more about the moment in which it was written than about the realities of the historical past. Like science fiction and fantasy, historical fiction allows authors to explore contemporary themes in different settings to highlight these themes in a new way. Anyways.)
As for the romance, Gareth and Joss are facing some truly insurmountable-seeming problems, starting with the fact that Joss blackmails Gareth to protect his sister. Plus there's the whole "we're queer in Regency England" thing AND the whole "we are from different classes" thing. But the way that Charles has these two guys work through their problems satisfies the strictures of the time, the characters' needs and desires, and my own desire as a reader for a happy ending.
I'll tell you right now that I cried at the end because it was so lovely.
I voluntarily read and reviewed a complimentary copy of this book. All thoughts and opinions are my own. We disclose this in accordance with 16 CFR §255.
---
---
Looking for something similar?
Picturesque English Meadows by the Sea