It's Halloweekend! If you're looking for something seasonal to read, we have some recommendations! Our list is organized loosely from spooky to bonkers to cute.
(For more Halloweekend recs, here's our list from 2020.)
---
Halloween is the perfect time to read a spooky gothic romance featuring a spooky gothic haunted house, siblings who are probably up to no good, ghosts, rats in the walls, a one-handed cook, and lesbians. I loved that our heroine, Kit, is pragmatic about trying to solve her spooky gothic problems. Weird noises coming from the walls? Let's buy some rat poison. Weird ghosts wandering around? Let's take some pictures and see if we can get proof. The first two-thirds is very atmospheric and absolutely chilling. However, the end doesn't quite hold up to the promise of the premise: the romance felt kind of rushed and the resolution of all the spooky gothic happenings is absolutely bananapants bonkers.
If you want spooky gothic vibes without the creepy Victorian stuff, then this book might be just what you're looking for. After all, Mercy is being haunted by La Llorona, and what is more spooky and gothic than a ghost who wants to drown you? There are also magic turnips, and since turnips were the original jack-o'-lanterns, this really does seem like the perfect Halloween read.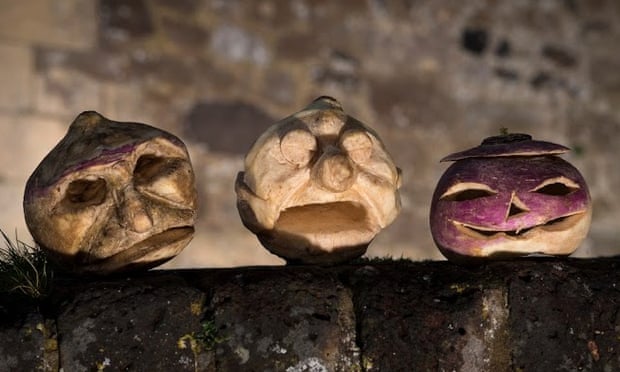 Full disclosure: The story is definitely more centered on Mercy and her place in the world than on the burgeoning romance between her and her hot farmer neighbor, so it may not be the best choice of you're a genre romance purist.
This book is bananas but in a charming way? Dani is pretty sure her apartment is haunted, but she's made friends-ish with the ghost in the year that she's lived there. Then this dude shows up in her apartment, tells her his name is Zack, that they only have this one night when the veil is super thin, and they have alllll the sex. For his part, Zack has been pining for Dani for a long time. He doesn't know how he became a ghost or came to be in the apartment, but he is going to take advantage of his one night of…corporeal-ness. I have to say I was wondering just how their romance was going to work out because—hello—ghost + alive person? But then the ending was delightfully clever.
---
This book is off the rails. In a good way. At least, good enough that I'm talking about it here. I didn't read book one of this duology, and I really don't think you need to if you want a short(ish), ghosty, romance story that is…very creative. Griffin is trying to figure out how to manage his friendship with his ghost roommate once he's married, and in the doing, he ends up with a grave illness. (I am hilarious, am I not?) As Griffin and Byron try to figure out how to save both Griffin's life and their relationship, many things happen, some of which are definitely not #RelationshipGoals, but Griffin and his ghostly roommate find their ways to come to terms with the changes that are occurring whether they're ready or not.
For those interested in the "cozy fall" vibe rather than the "spooky" Halloween stories, this rom-com is a super playful combination of charm and absurdity. Best suited to those who enjoy potty humor (Ingrid) and don't get frustrated by youthful foibles. After all, the narrator, Theo, impulsively quits her job to go live her dream across the country in Connecticut. You might expect things don't go to plan when she buys an old house, sight-unseen, for about as much money as I'd have to spend on a shed (I might exaggerate, but not by much)…and you'd be right. Luckily, there's a hot neighbor who's in the construction business, and he's exactly Theo's vision of her Romance Hero. Unluckily, real men often don't measure up to fiction's standards.
If you're interested in those cozy vibes but also don't want to invest in a full-length novel right now, Mr. October has some hijinks and small-town charm. Everybody in town has been pranking Sabrina every October for her entire life, including her best friend, Adam. Me, I would never speak to him again after being scared out of my wits repeatedly, but Sabrina is apparently made of sterner stuff. The besties are mutually pining but are also too scared to do anything about it, until Sabrina turns the tables and they decide to prank the whole town this year as revenge. It's cute, it's super short, and it ends with some sexytimes. What more do you need?
---
We reviewed Headless as a group last Halloween, but it's perfect Halloween vibes if you're looking for a quick, haunting read.